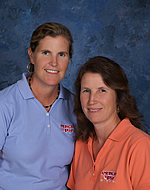 American Pie Pizza was first opened in January of 2004, with the store at 9709 Maumelle Blvd. in North Little Rock. We opened with a goal to provide a good product at a fair price and feel we have accomplished that goal. Our second store at North Hills and McCain Blvd. was opened two years later in January of 2006. We were very fortunate to be able to open this second location so quickly. And in 2010 we opened a third location in West Little Rock on Colonel Glenn Road & I-430 just across the road from Lander's Toyota.
In 2018, we opened a Full Bar at the original Maumelle location.
American Pie Pizza is a family owned operation. We are owned and operated by sisters Tamsye Nosal and Melody Williford. Between the two of us, we have 5 of our children also working at one or both of our locations. We also have several nieces and nephews working at the restaurants.
We consider every one of our staff as part of our family. That's why you will always see a familiar face when you come in to visit. Our staff enjoys taking care of our customers and we in turn enjoy taking care of our staff. We have several who have worked through high school or college until graduation and sometimes beyond.Our Pizzas are thin crust, and considered by some as the best around. We only use the freshest ingredients on all of our items. Our salads can be a meal and the sandwiches are sure to fill you up. Check out the menu for all the great choices. There is something for everyone.
We hope you delight in our food and our staff and have an enjoyable visit as our guests at American Pie Pizza. See you at "The Pie".